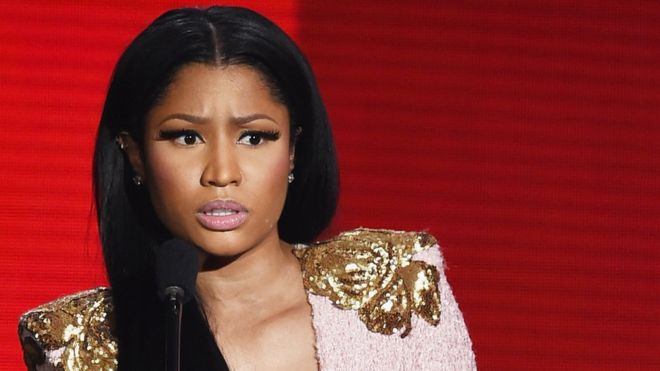 US rapper Nicki Minaj has been asked by a rights group to cancel her performance in Angola on Saturday. Minaj is due to perform at a Christmas party hosted by mobile phone company Unitel.
The letter from Human Rights Foundation (HRF) says the money to pay her comes from "government corruption and human rights violations".
"Ms. Minaj, you are well known for being involved with charities such as the Get Schooled Foundation, which helps motivate young people to graduate from high school and succeed in college. If you move forward with this performance for the dictator and his family, you will be in league with the people stealing educational resources and opportunity from young Angolans."
The group points out that the company, Unitel, is controlled by Isabel dos Santos, daughter of Angolan President, Jose Eduardo dos Santos and said to be Africa's richest woman.
Transparency International recently named the billionaire Ms Dos Santos as one of 15 symbols of grand corruption worldwide.
Two days after the accusation Ms Dos Santos's company Fidequity issued a statement insisting it is an independent company and doesn't use public funds.
Well, on Wednesday morning, Nicki took to Instagram to indirectly address the situation. She first started with promoting the show.
...and then this;
What do you think? Should Nicky honour the show or nah?