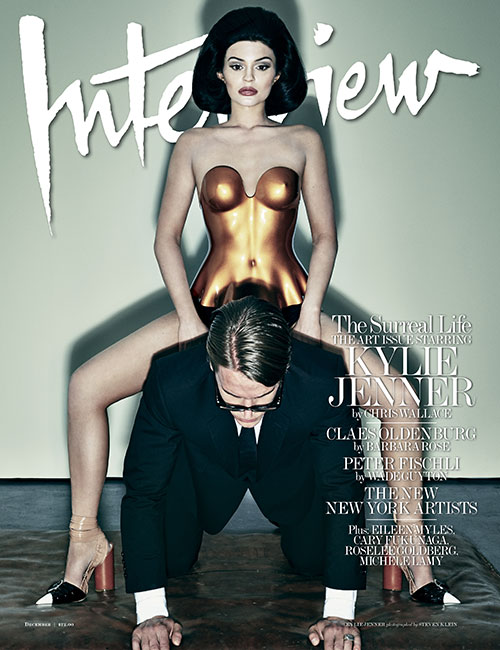 Now that she is 18 Kylie Jenner can pretty much do what she likes – including having a risque shoot for Interview magazine's latest issue.
The reality TV star covers the magazine's December/January 2016 issue with photographs shot by Steven Klein.
Her shoot was "surreal" filled with latex clothes and awkward poses.
See excerpts from her interview below.
On having 40 million Instagram followers:"It intimidates me but I've just realized, like … You know who I'm obsessed with? I'm obsessed with Lady Gaga. I saw her at the Alexander Wang fashion show after-party, and I think she's the nicest person ever. She came up to me and was like, "I think you're so amazing, and whatever you're doing, people are just obsessed with it," and she basically told me to not change. And I feel like that really helped me, because there's a reason why I have so many followers and why people pay so much attention to me. So I just try not to change and stay authentic. I do feel pressure when I do sexy photo shoots and stuff, or if I want to post a picture … I don't know. Because I want to be a good role model, but I also want to be me."
On if she feels like she has missed out on life as a normal teen: "I do. I feel like I'm going to look back and be like, 'Damn, I wish I could've just been a kid and done normal teen- age stuff that my friends get to do.' But it also is a blessing, and I've done so many things that most 35-year-old women still haven't done. You can look at anything glass-half-full or what- ever. Like, yesterday I realized that I'm 18, I'm a female, and I have accomplished so much. I live in a beautiful home and I work really hard, so I'm just grateful."
On her true self: "There is absolutely a side of me that people don't know. I'm not myself on Snapchat or Instagram. That's totally not me. I'm way flashier on Instagram and Snapchat, because I feel like that's what people want to see and that's what I've always done, so I'm not going to stop. People want to see my cars and my purses. People love fashion. But that's so not me."