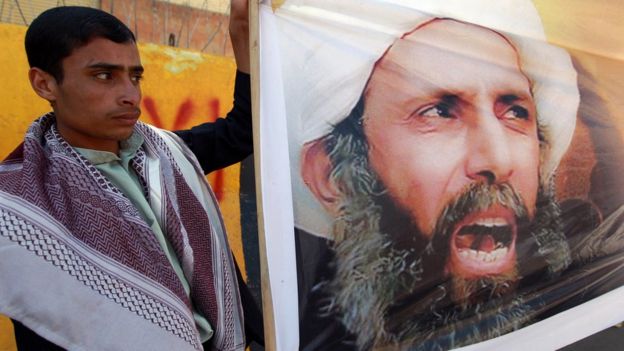 Since Saudi Arabia executed 47 people in one day, exasperation has poured in from human rights activists and sectarian anger has spread in the Middle East, over the death of one man.
Shia Muslim cleric Nimr al-Nimr until his death, was a persistent critic of Saudi Arabia's Sunni royal family. He died on Saturday alongside 46 terrorism convicts, CNN reported.
In Iran, the last word belongs to Supreme Leader Ayatollah Ali Khamenei. And on Sunday, he tweeted, "Doubtlessly, unfairly-spilled blood of oppressed martyr #SheikhNimr will affect rapidly & Divine revenge will seize Saudi politicians."
Ayatollah Khamenei described Sheikh Nimr al-Nimr as a "martyr" who acted peacefully. He said the cleric had been executed for his opposition to Saudi Arabia's Sunni rulers.
Protesters stormed the Saudi embassy in Tehran late on Saturday, setting fire to the building before being driven back by police. Several hundred people gathered outside the building again on Sunday afternoon.
The authorities have changed the name of the street on which the Saudi embassy stands, naming it after the executed Sheikh Nimr.
The leader of Lebanon's Shia Hezbollah movement, Hassan Nasrallah, launched his sharpest attack yet on the Saudi ruling family, accusing them of seeking to ignite a civil war between Sunni and Shia Muslims across the world.
He said the blood of Sheikh Nimr would "plague the Al Saud [family] until the Day of Resurrection", prompting cries of "Death to the Al Saud!" among an audience watching his address.
For its part, Saudi Arabia complained to the Iranian envoy in Riyadh about what it called "blatant interference" in its internal affairs.
Sheikh Nimr had been a figurehead in the anti-government protests that erupted in the wake of the Arab Spring up to his arrest in 2012.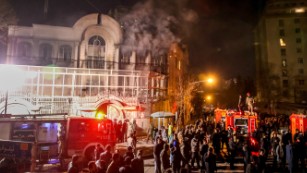 According to BBC, most of the 47 executed by Saudi Arabia were Sunnis convicted of involvement in al-Qaeda-linked terror attacks last decade.
Saudi Arabia carried out more than 150 executions last year, the highest figure recorded by human rights groups for 20 years.